Our exemplary Employment Practice, is recognised as a top tier one by the Legal 500. Equally adept at contentious and non-contentious work for both public and private sector clients, our lawyers have defended a vast range of claims including discrimination, harassment and wage and hour violations, as well as unfair competition, misappropriation of trade secrets and labour vs management disputes (among others). Their expertise and experience spans restrictive covenants, union disputes and wrongful termination claims. We also draft employment policies, procedures and company handbooks which reflect the specific requirements of your business and the industry in which it operates.
Employment law is one of the most rapidly changing areas of Greek law. Against a backdrop of new legislation, regulations and judgments, maintaining best practice is a real challenge. What's more, with ever increasing awards from courts and tribunals, disputes are not only disruptive – they can also be costly. It is this combination – impacting on performance and profit – which makes employment law a key business issue and an area in which risk can be minimised by taking specialist legal advice at an early stage.
We strive to ensure our clients create and maintain compliance strategies which safeguard the retention of their best employees and avoid the need for costly litigation. Our employment counselling services include wage-and-hour compliance under Greek Law and EU regulations; workplace privacy issues (including evolving data privacy laws); severance agreements; and performing employment law compliance surveys.
Below is a summary of our wide-ranging employment services:
Compliance Issues
Employment Disputes and Litigation
Documentation Drafting and Vetting
Collective Bargaining Agreements
Union Organizing
Compensation Structures
Workforce Restructuring
Executive Employment Agreements
Severance Arrangements
Management and Employees Training Programmes
Auditing & Due Diligence
Occupational Health & Safety
Mergers & Acquisitions
Non-competition Agreements and Related Issues
Policies & Handbooks
Redundancy Programmes
Our firm is the Exclusive Contributor to "The Legal 500" Employment & Labour Law Comparative Guide 2023 for Greece.
Read the guide here: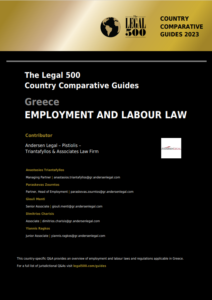 New Employment Law 5053/2023.
Read our White Paper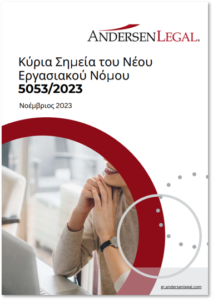 Read in-depth employment information from various countries in our monthly Andersen Employment Insights newsletter.