Start – up: The new form of entrepreneurship of the last decade
Greece is evolving into a major hub for start-ups. The network of Greek entrepreneurs and technologists is quickly maturing, delivering results, and giving shape to an emerging Greek start-up industry. Moreover, funding in the sector has been growing thanks to an increase in initiatives aimed at backing entrepreneurs and venture capitalists.
At the same time, the government is committed to creating a supportive environment for innovation and growth with recent legal developments such as Law 4712/2020.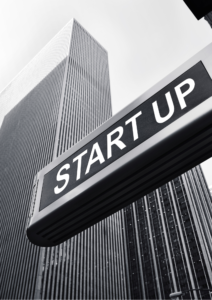 What makes a start-up profitable and successful?
The dominant component of the start-up philosophy is innovation. The core of a start-up is to provide innovative solutions in the modern and fluid environment that we live in.
But the road to success is not just fresh ideas and innovation. It takes courage, risk-taking, proper business planning, plenty of appetite and hard work, and finally a persistent and ambitious team. With creativity, flexibility, strategy and patience, every Greek startup entrepreneur can survive, grow and succeed!
Why now?
On 29.07.2020, Greece adopted Law 4712/2020 introducing the establishment of a National Start-Ups Registry. This law introduces fiscal incentives for R&D and investments in the early stages of start-ups.
How to Start your Start-up
Everyone has at least one idea for the next big thing. What makes startup founders different is their willingness to take action to make one of those ideas a reality. A big part of execution is simply getting started, but once you've got the ball rolling it's helpful to have a checklist of steps to follow to make sure everything is in order
Let' s see how to transform your ideas into a bold new business.
These are the five (5) essential questions that you need to answer before making any action.

1.Who should start a business?
If two or more entrepreneurs are working together, they need to explore more sophisticated business structures that define ownership, revenue splits, plan for growth, and minimize individual risk.
All business relationships need to be based in trust, but they should also be in writing. When two or more individuals start a business there needs to be a structure that accounts for the responsibilities of each and sets out the limitations of all.
Always remember that you need good people who get along, but you also need a structure to help keep everyone aligned for the long term.
2.What is the Best Structure for a New Business?
There is more than one way to start a business. In fact, there is a whole spectrum of choices.
The primary legal entity types in Greece are:
Sole proprietorship
General Partnership – Omorythmos Eteria (OE) & Limited Partnership – Eterorythmos Eteria (EE)
Private Capital Company – Idiotiki Kefalaiouhiki Eteria (IKE)
Limited Liability Company – Eteria Periorismenis Efthynis (EPE)
Société Anonyme – Anonymos Eteria (AE)
The most common and flexible type of company for startups is that of Private Capital Company – Idiotiki Kefalaiouhiki Eteria (IKE)
A Private Capital Company is exclusively liable for its corporate debts, whereas the liability of its partners for corporate debts towards third parties is limited to their capital contribution.
There is no minimum capital, and the partners can participate in the company by contributions in cash or in kind, in the form of personal services to the firm, or in the form of guarantees/liability undertaken by the partners towards third parties.
Alternatively, depending on the amount of investment someone may choose to establish a Société Anonyme
3. Where should I start a business?
Doing business in Greece is much more easier today than a decade ago. More state services have come online, investment incentives are kicking in, and reforms are boosting the labour market.
In terms of taxation, the tax rate in Greece amounts to 24% on profits while the tax on dividends to 5%. If you decide to start your own business abroad, you will need specialized tax advice in order to tackle the complex tax issues and find the best available option.
But it may be redeeming…
The most important question, you need to ask yourself before deciding the place to start your business is whether you will look for investors or prefer your company to be self-financed.
Finding financing is one of the biggest challenges a startup company faces and is probably the most common reason why innovative and ambitious ideas do not move forward.
In addition to the traditional sources of funding such as bank lending, emerging alternative methods are widely used abroad and in recent years in Greece as well, such as crowdfunding, investment funds, angel investors and Venture Capital (VC), which are the most popular source of financing.
4. What are the first steps?
Decide the name of your company & register the domain name and trademark
Sign the Articles of Association & complete the establishment procedure
Decide the issues governing the relationship with the other partners and sign a Shareholder's agreement
Conclude employment or service agreements if there is any specific obligation for any shareholder
Conclude an IP transfer Agreement if your idea is based on Intellectual Property rights
Find out where your base is going to be and sign a lease agreement
5. When is the right time to start?
Answer the following questions:
What valuable company is nobody building? Could this be my own company?
Will this business still be around a decade from now?
Is our technology 10 times better than its closest substitution?
What is the endgame?
The Solution – Day One Pack
Day one pack is all you need to start your start up. We will take it up from here and we will come back with your company 'up and running'.
Get our  'Day One Pack' and you will have all the necessary information, documents, services and guidance that you need.

The Essentials Handbook
On this handbook you will find the essential information on how to start your own start-up. Find the answers you need on a FAQ format.

Articles of association
It's the time to enter the start-up ecosystem and we got you covered. This is your draft of articles of association, covering your own needs and ideas. First you will answer our simple questionnaire to identify your business model; then we will prepare your business' most important document , your article of association, customized to your own business model.

Shareholder's agreement
You are a team and you all participated to create the idea that will take you to the next level. You will make it fly, but before that you have to determine the business relationship between you and your partners. Depending your answers to our questionnaire we will prepare for you an agreement and add it up to your articles of association, so everyone will know where he stands in the future. Obligations, responsibilities and side agreements will be clear for everyone.

Establishment procedure service
It is time to deal with the state bodies and tax authorities, to make your start up happen.
Depending on the legal form of the company we will do all the work for you related to the General Commercial Registry, namely the GE.MI, a Notary public, the Electronic One-stop shop Service (e-YMS) and the tax authorities.
The only thing we need from you is a PoA (Power of Attorney) from you, which you can issue electronically.
We will come back with your start-up ready to go!

Trademark
Now that you have a general idea about your business, it's time to think about your company's  trademark which will distinguish the products or/and services you offer.
Depending on your business needs, you may choose  to register your trademark on  a national and/or European level.
We will  identify the risks of existing similar trademarks. Then we will proceed with the preparation and submission of the application for a trademark registration and follow up the whole process up to the registration certificate, along with any potential disputes that may arise.

Lease agreement
Did you find a place to be the base of your start up? Then you will have to sign a lease agreement and we will provide you with the proposed draft or review the one the landlord provided you with.

IP transfer agreement or Asset transfer Agreement
Before deciding to create a start-up, we are pretty sure that you have spent some time and you have created a blue print of the technology you will create or the idea you will develop. This is an asset of the new company and every future investor will request to be part of your company's assets. The transfer agreement will secure the lawful transfer of your assets and or IP to the company.

5 hours advisory services pack
We are pretty sure that some more things will come up and we will need to discuss resolve. We want to make sure that things will run smoothly for you from Day One. Therefore, there is a 5 hours advisory services pack to use it and create more value.
'Setting up right your start-up without support can be put on the backburner.
Together we will make things right from Zero to One. '