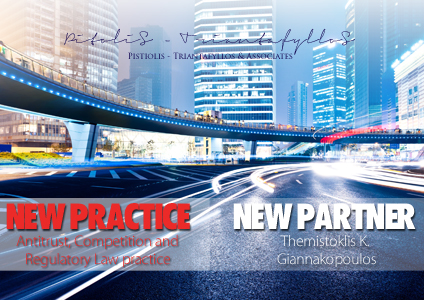 Our firm welcomes Themistoklis K. Giannakopoulos to the team.  Themis will be the Head of our new Antitrust, Competition and Regulatory  practice.
Themis combines in-depth academic knowledge with extensive practical experience  in the area of EU and national competition law, being also author of numerous publications in the field.
Our new practice is a further step to our approach to providing 360ο protection to your business.
Our aim is our clients to understand their rights and obligations under the procedural and substantive provisions of competition law, and to be always compliant, minimizing the relevant risk, whilst at the same time they are in the best possible position in respect of attaining their business objectives. We are here to provide business-oriented, innovative counselling, proactively, but also reactively at all stages of potential enforcement proceedings, both at national and EU level.
Read more about our new Partner Themistoklis K. Giannakopoulos here
Read more  about our new Antitrust, Competition and Regulatory practice here