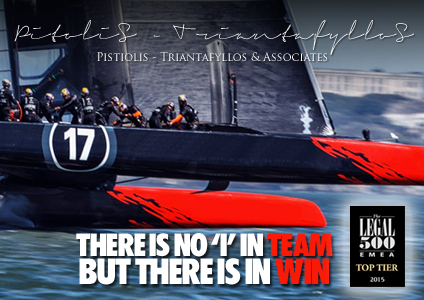 The Legal 500 Europe, Middle East & Africa 2015 recommended our firm for 5th consecutive year as one of the top law firms for doing business in Greece.
Our firm has been recommended as a TOP-TIER FIRM in Employment and as a leading law firm in Corporate and M&A, Real Estate and Construction as well as TMT.
Three of our firm's lawyers have been recommended for their skills and the quality of service provided to their clients.  Theodore Pistiolis has been recommended in Corporate and M&A, TMT, Employment as well as Real estate and construction; Anastasios Triantafyllos has been recommended in Employment; Vanita Kiriakouli has been recommended in Real Estate and Construction.
More specifically Legal 500 has recommended our firm within the following practices:
Corporate and M&A – "A law firm to trust your business with.  Gives fast, reliable, business oriented advice.  Theodore Pistiolis quickly understands the issue at hand and is a skillful negotiator and talented closer of deals".
Employment – "The firm is excellent value for money and a very valuable adviser on many complex employment issues.  Anastasios Triantafyllos is an exceptional professional with wide knowledge of employment matters.  Theodore Pistiolis is undoubtedly a top expert in the area of employment law with high level litigation skills."
Real Estate & Construction – The firm regularly advises major construction companies, including Intrakat, Aktor and Pantechniki and acted for Enel Green Power on the real estate due diligence pertaining to a 2.500 acre wind farm.  Vanita Kiriakouli heads the team.
TMT – The firm acts for several clients in the IT and services sector and has a good reputation for regulatory and data protection advice.  Theodore Pistiolis is the main contact.
The Legal 500 Series is widely acknowledged as the world's largest legal referral guide.  More than 250,000 corporate counsels have been surveyed and interviewed globally in the past 12 months.  The Legal 500 is an independent guide and firms and individuals are recommended purely on merit.  The Legal 500 Series' analysis of law firm capabilities extends to 107 jurisdictions worldwide.  The website www.legal500.com has 4 million unique individual users each year, including 2.5 million corporate counsel.  Used by commercial and private clients, corporate counsels, CEOs, CFOs and professional advisers – as well as by other referrers of work both nationally and internationally – the series is widely chosen for its definitive judgement of law firm capabilities.