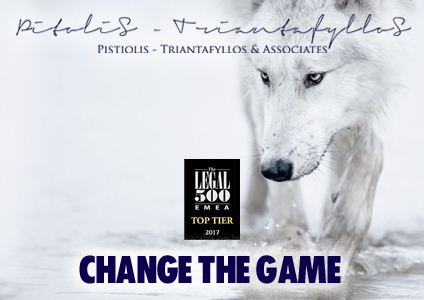 In the 2017 edition of The Legal 500 Europe, Middle East and Africa, Pistiolis – Triantafyllos & Associates has been recommended as a TOP-TIER FIRM in two practice areas:
Pistiolis – Triantafyllos & Associates has also been recommended in the following three practice areas as a leading law firm:
Commercial, corporate and M&A
Real estate and construction
Tax
Our team is considered ' fast and efficient', is praised for 'clarity of argument and for its professionalism and experience, whilst our 'deep knowledge or the real estate and construction sector' is recognized. Our top tier TMT  team is 'dynamic,solution driven and effective'.
Recommended lawyers
Eight lawyers  and consultants of our firm are recommended:
Commercial, corporate and M&A
– Theodore Pistiolis
Employment
– Anastasios Triantafyllos
– Paraskevas Zourntos
– Theodore Pistiolis
Real estate and construction
– Dimitra Gkanatsiou
– Theodore Pistiolis
– Vanita Kiriakouli
TMT
– Themistoklis Giannakopoulos
– Theodore Pistiolis
Tax
– Martha Papasotiriou
– Nikolaos Siakantaris
Our firm is proud that its attorneys and practices received such recognition from one of the world's most respectable referral Organizations for seventh consecutive year.  We would also like to thank our clients for the support and to promise that we will keep up the hard work to come up to their expectations.
About the Legal 500 Series
The Legal 500 Series is widely acknowledged as the world's largest legal referral guide. More than 250,000 corporate counsel are surveyed and interviewed globally each year (actually over 300,000 in the past 12 months). The Legal 500 is an independent guide, in which law firms, sets and individuals are recommended purely on merit. The Legal 500 Series' analysis of law firm capabilities extends to 125 jurisdictions worldwide. The website (www.legal500.com) attracts over 4 million visitors each year, including more than 2.5 million corporate counsel. Used by commercial and private clients, corporate counsel, CEOs, CFOs and professional advisers – as well as by other referrers of work both nationally and internationally – the series is widely chosen for its definitive judgement of law firm capabilities.